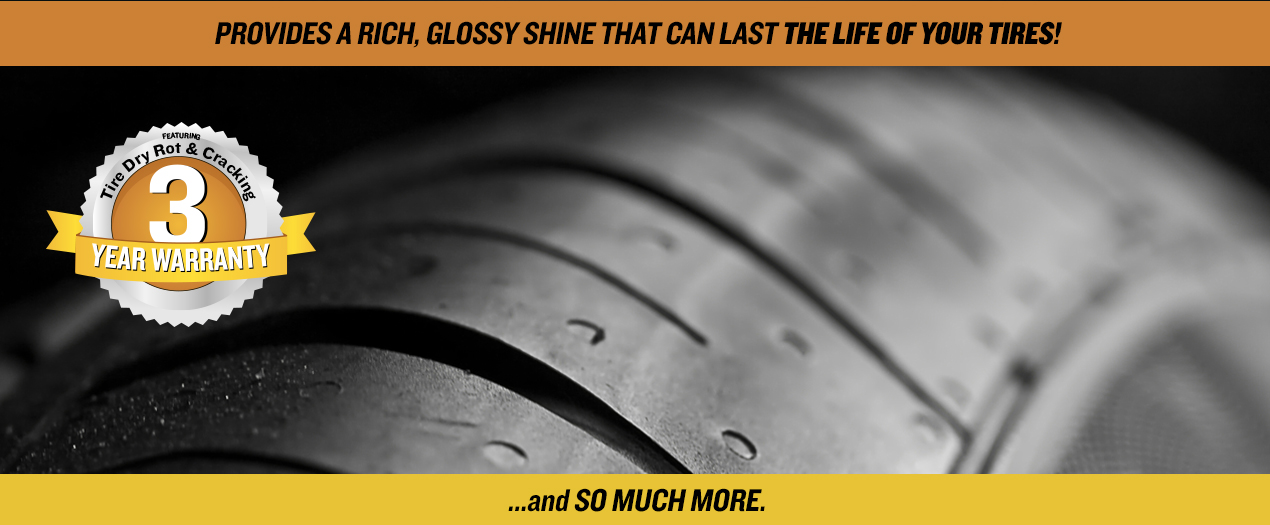 Permagloss Permanent Tire Protectant is unlike any other tire dressing or tire shine product on the market. First, Permagloss provides a rich, glossy shine that can last the entire life of your tires … a feat no other product has ever achieved. Instead of the weeks, months or "100 Washes" that other premium tire shine products propose to deliver, a single application of Permagloss Permanent Tire Protectant can continue to shine and protect virtually forever, while withstanding conditions that would obliterate most other tire appearance products.*
When applied, Permagloss Permanent Tire Protectant bonds to the tire, drying to the touch in just a few minutes and forming a flexible yet virtually indestructible protective barrier. It's not only water and weather proof, but can withstand the torrential spray of a 3000+PSI pressure washer! It's not only resistant to most common cleaning products, but can withstand being drenched in battery acid without any loss of protection or shine! Click here to see these and other examples of Permagloss's almost unbelievable durability.
But there's much more. Permagloss doesn't just make tires look great, it's actually great for them. It is formulated to provide complete 100% protection against harmful UV rays, ozone damage and oxidation. If fact, we are so confident in the in extraordinary durability and protection our exclusive three-part-system provides, that if your Permagloss treated tires dry-rot or crack due to UV or ozone damage, we will replace them for FREE!**
Unlike most tire appearance products and dressings, Permagloss is also solvent-free, water based, environmentally friendly and will not damage tires. Most tire manufacturers recommend against the use solvent-based tire dressings due to their destructive qualities. Solvent-based dressings actually promote tire yellowing and cracking, and can destroy the UV and ozone protectants that are essential to the life, color and texture of a tire. Permagloss, on the other hand, contains the same UV and ozone protectants that are used in tire manufacturing and enhances tire longevity.
Your tires are the most expensive replacement item on your vehicle. Don't expose them to premature aging and deterioration. Protect your tires and keep them better than new with Permagloss.
**Limited to $150 per tire and $600 per vehicle. Please click here for complete details.